August 2014
Concrete Firm Delivers For £Multi-Million Distribution Centre Project
We were recently called upon by construction firm, Winvic, to provide our 2,400kg Legato™ blocks to build a retaining wall as part of the development of a 310,000ft2 Prologis distribution centre in Dunstable.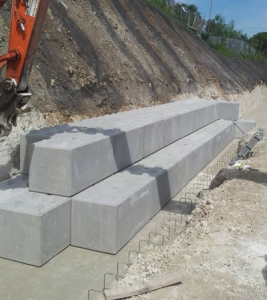 The blocks were used to create a 220m long and 5m high retaining wall at the new facility, providing a quicker, better value and more space efficient solution compared to the standard gabion baskets which had been originally specified.
The main contractor, Winvic, was working to a tight time frame and in turn they contracted the PNR Construction who are specialist contractors to prepare the foundations and install blocks. The project involved the very highest level of team working between all the companies and the incredible result was that in just 10 working days over a thousand Legato™ blocks were delivered and installed.
Owen Batham, Sales and Marketing Director of Elite Precast Concrete, explained: "We were delighted to support Winvic and PNR with this project, and offer a suitable solution to aid the project's fast turnaround time. Our blocks are all stock items ensuring an instant response and a quick and hassle-free build. The Legato™ blocks are ideal for constructing retaining walls and incorporate their own cast-in lifting pins which mean they are extremely quick and very safe to install.
Scott McDermott at Winvic, said: "The construction project was particularly time sensitive and the Legato™ blocks were the perfect option, not least because they could be delivered and installed within a very short period of time. Due to the speed of the build, the site excavation was only accessible for a limited period of time so the easy installation of the blocks was a huge safety advantage. The streamlined collaboration between Elite Precast Concrete and PNR Construction who installed the blocks was also a huge benefit."