Fire Prevention and Mitigation Plan Guidance – Natural Resources Wales
In May 2016 Natural Resources Wales (NRW), in collaboration with the three Welsh Fire and Rescue Services, published a document to advise on fire prevention and mitigation procedures on waste sites in Wales.
The document, updated in August 2017, was produced using the experience gained by Fire & Rescue Services whilst fighting real fires on waste management sites. Further information was used from the knowledge obtained as a result of a series of burn tests carried out in 2015 and throughout 2016 by WISH (Waste Industry Safety and Health Forum) supported by CFOA (Chief Fire Officers Association).
Three-sided waste material bays – the preferred choice
The use of three-sided bunkers to store waste material has long been recommended as a good way to stop the spread of fire within waste management sites, because in the event of a fire, the bunker walls will act as fire breaks.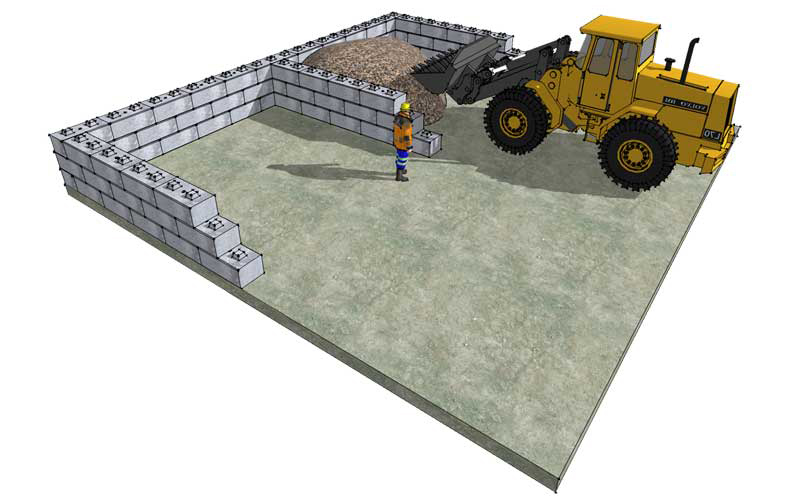 Waste storage recommended bay/bunker sizes and fire resistance times
Within the NRW guidance document, valuable advice is given on the recommended size of the waste storage bays/bunkers that should be used and also the fire resistance times that they should provide.
Interlocking concrete blocks – Class A1 fire Resistant
Elite Precast Concrete manufacture a range of interlocking concrete blocks that are ideal for the construction of waste storage bunkers. The blocks DO NOT contain any recycled or waste materials and are therefore Class A1 fire resistant in accordance with clause 4.3.4.4 of EN 13369.