Marker blocks
Precast concrete marker blocks are primarily used to aid in the location and identification of electric cables and other utility services that are buried underground. They can also be used to mark boundaries and other reference points.
They are made from precast concrete and are manufactured and tested in accordance with BS 1881 standards.
Available in a range of standard sizes with various legends, however any size or wording can be produced on
Block types
Marker Blocks are manufactured in accordance with BS 1881 and standard blocks are listed in the table opposite.
Where applicable blocks have a recess on the underside which houses a 6mm galvanised bar to enable cable draw ropes etc. to be attached.
The standard recess size for identification plates is 100mm x 75mm.
Any other requirements can be made to order.
Marker blocks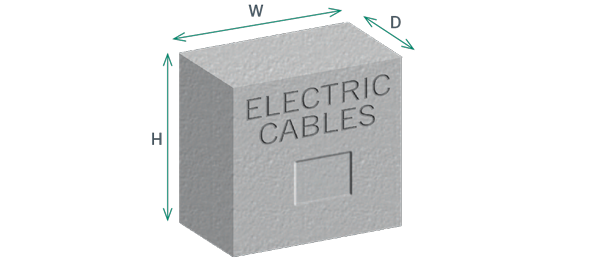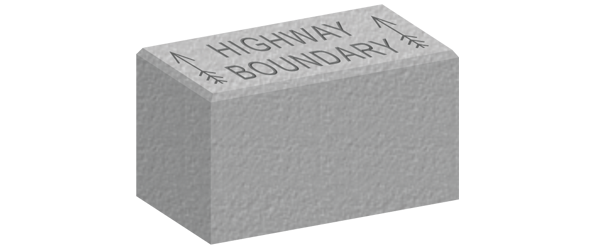 Marker Block
Code
Height
Width
Depth
Weight
Other
Refs
Narrative
CG2
300mm
300mm
150mm
32kg
BCB 300
Electric Cables
CG2B
300mm
300mm
150mm
32kg
High Voltage Cables
CG2C
300mm
300mm
150mm
32kg
Fibre Optic Cables
CG2D
300mm
300mm
150mm
32kg
Gas
CG2E
300mm
300mm
150mm
32kg
Water
CG2F
300mm
300mm
150mm
32kg
DHM
CG2G
300mm
300mm
150mm
32kg
Boundary
CG2H
300mm
300mm
150mm
32kg
BT
CG2J
300mm
300mm
150mm
32kg
SP
CG2A
300mm
300mm
225mm
48kg
D
CG2A
300mm
300mm
225mm
48kg
DD
CG2A
300mm
300mm
225mm
48kg
J
CG3
600mm
600mm
100mm
89kg
Electric Cables
CG4
300mm
300mm
75mm
16kg
Fire Mains
CG5
150mm
300mm
150mm
15kg
Highway Boundary
CG5A
100mm
100mm
500mm
12kg
HB
CG5B
150mm
300mm
105mm
11kg
Highway Boundary
CG6
250mm
450mm
105mm
26kg
Filter Drain Below
For more information call 01952 588 885