Duo™ Interlocking Concrete Blocks
Elite are the UK's only manufacturer of Duo™ interlocking concrete 'lego' blocks – used throughout the UK in a wide variety of applications. 
If you're looking for a robust, simple and flexible way of building retaining walls, push walls, salt bays, aggregate storage, compost, wood chip or other material segregation walls for light scrap metals, white goods, RDF waste, black bag waste etc then Duo™ blocks could be what you're looking for. Duo™ blocks are also ideal for all sorts of temporary works including cofferdams. By using precast concrete Duo™ blocks for above ground/no dig fencing and hoarding systems you avoid the risk of costly service strikes.
Before you start using our blocks we recommend you check out our unique stability and loadings directory below where you will find lots of guidance on wall heights, material storage and ground bearing / foundations etc – there are also great downloads available to assist in designing new stockbay walls (New Stockbay Wall design Guidance for Interlocking blocks) and inspecting existing walls (Stockbay Wall Inspection Guidance for Interlocking blocks) or contact us on 01952 588558 or email sales@eliteprecast.co.uk where we can refer your questions to an experienced third party structural engineer.

We can provide a full turnkey package of services including design, transport and installation – all available through our approved contractors.
Structural and foundation design reviews for existing and new projects carried out by an independent structural engineer are available on request.
IMPORTANT NOTE:
It is the customer's responsibility to ensure appropriate structural checks are carried out before any precast concrete products are installed.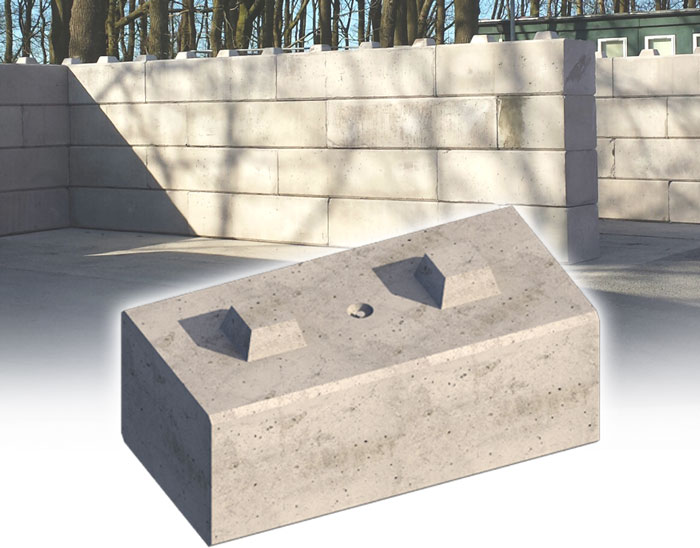 Duo™ blocks give you the benefits of 600mm thick high-strength concrete combined with the added advantage of being able to install, reconfigure or relocate the blocks yourself – without the need for expensive, specialist lifting equipment.
The clever design (which incorporates a cast-in lifting pin flush with the concrete surface) allows the blocks to be easily dry laid onto any firm surface, creating bay dimensions to suit almost any site.
See below for the full range and specifications.
Duo™ Interlocking block range
Our Duo™ blocks are the UK's fastest selling interlocking block solution. They come in three sizes – one, two and three connector – the standard block is a BL2 1200mm x 600mm x 450mm (highlighted in the table below) and weighs 750 kgs.
Speed of construction is a key feature – two men can expect to install 228 blocks per day which is over 123m2. The blocks interlock with each other using 'lego' type connectors and are dry-laid making them a reusable semi-permanent option. Capping pieces are also available to give a great looking finish.
A standard articulated lorry carries 38 of the 1200mm blocks although we are happy to deliver any number including single blocks.
| | | | |
| --- | --- | --- | --- |
| Duo™ Block | Product Drawing | L x W x H (mm) | Weight |
| BL1 (F) | | 600 x 600 x 450 | 375kg |
| BL1 | | 600 x 600 x 450 | 375kg |
| BL2 (F) | | 1200 x 600 x 450 | 750kg |
| BL2 | | 1200 x 600 x 450 | 750kg |
| BL3 (F) | | 1800 x 600 x 450 | 1125kg |
| BL3 | | 1800 x 600 x 450 | 1125kg |
BL1 (F)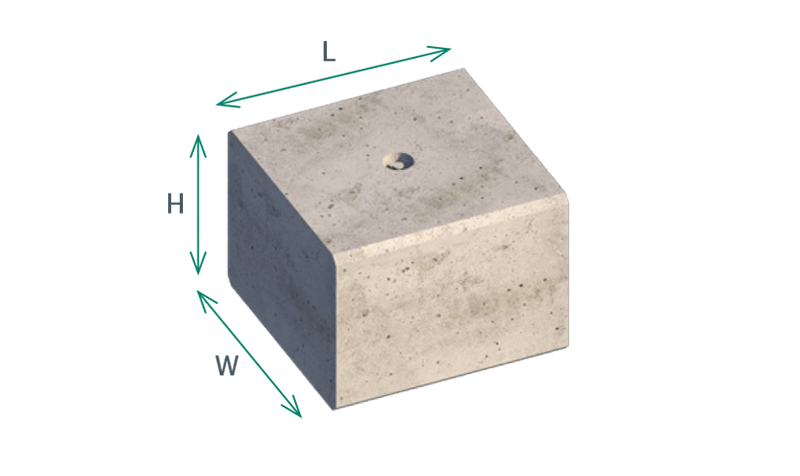 BL1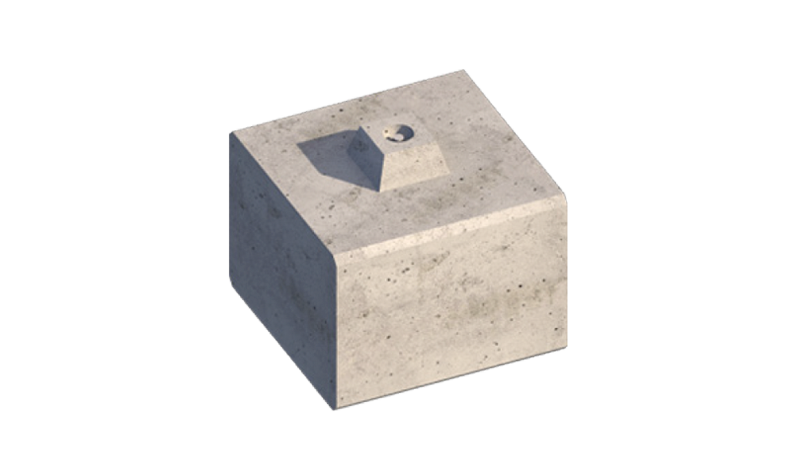 BL2 (F)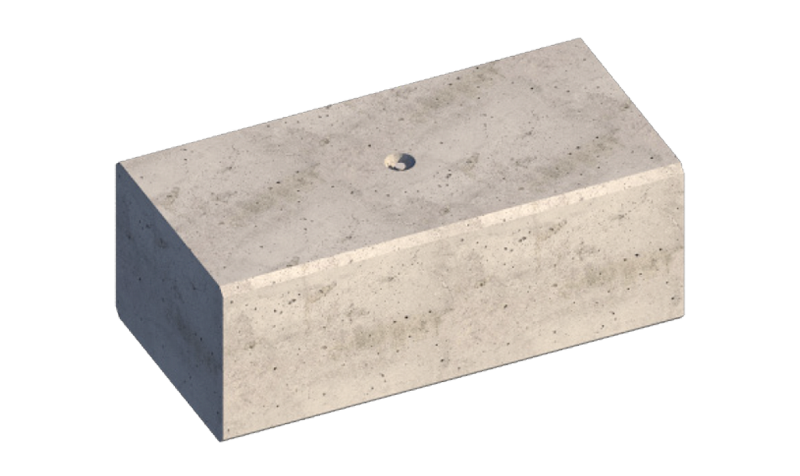 BL2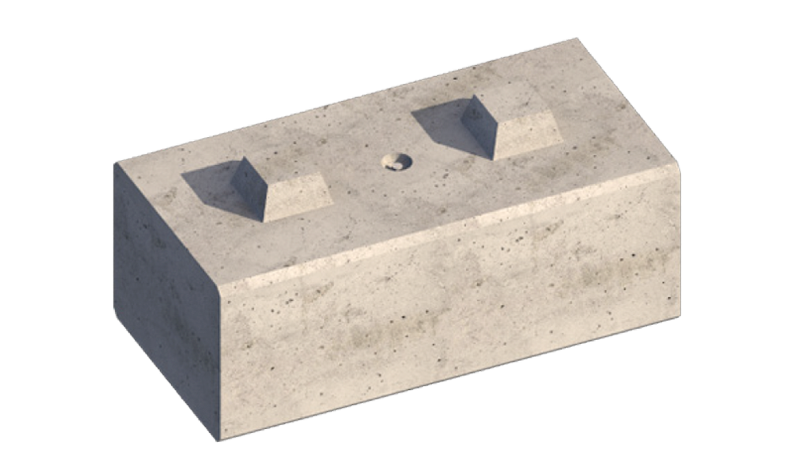 BL3 (F)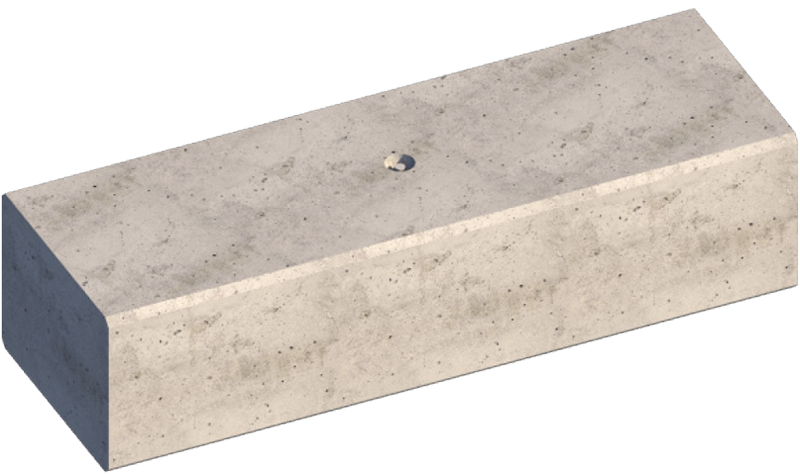 BL3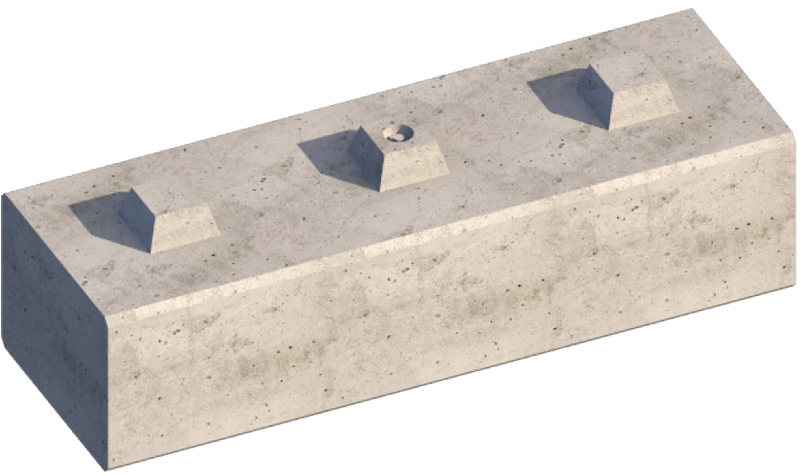 Typical loads… Duo™ block walls
1. These loading figures are for guidance only – if in doubt consult a structural engineer.
2 The retained material should be allowed to naturally fall against the wall as it is stacked.
3 These loading tables relate to specific materials with a typical density and angle of repose, stacked to specific heights and slopes.
4 The client should ensure that the walls are built on a suitable base.
5 The density and angle of repose of each material shown are typical values only.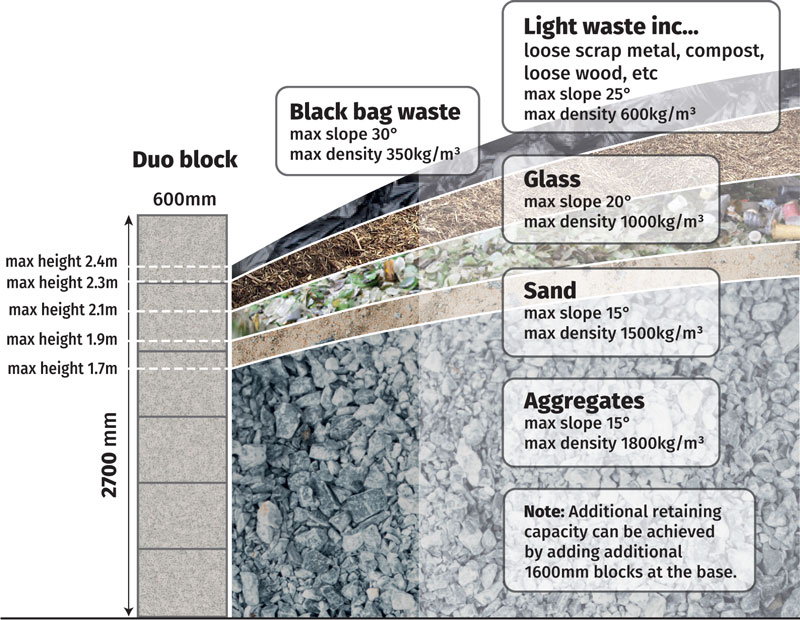 For more information call 01952 588 885
Important note – prior to lifting older / pre-used blocks check the lifting pin for wear / corrosion and check the block for cracks. If the block is cracked or the pin is worn it could fail when being lifted.