May 2012
Concrete firm on starting blocks for Olympic effort
A Telford firm is winning its own race against time to ensure a prestigious Olympic contract is successfully completed well ahead of the upcoming London sporting extravaganza.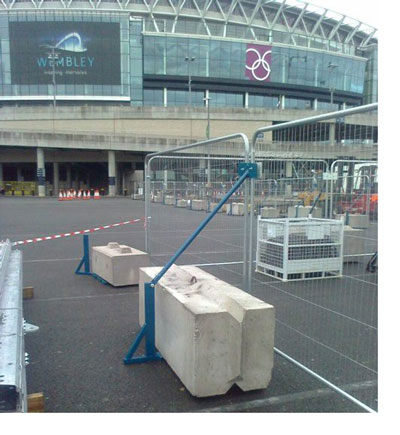 Halesfield-based Elite Precast Concrete is supplying more than 21,000 of its precast concrete blocks to the official Olympic organisers LOCOG, who are using them as sturdy counterweights to help bolster security and crowd control at venues across the capital during the fortnight of sporting festivities later this summer.
"Wherever there's perimeter fencing or crowd control barriers installed at any of the Olympic facilities, not just the actual Olympic Stadium in Stratford, but all the other venues and fan parks too, it'll be our concrete blocks manufactured right here in Shropshire, that'll be holding them safely in place," Owen Batham, Sales and Marketing Director of Elite Precast Concrete, explained.
The seven-figure contract will see Elite Precast Concrete's interlocking blocks act as kentledge – a reliable form of counterweight – for a total of 30km of perimeter fencing, with concrete chosen because of its extremely robust qualities.
"Traditionally, sand or non-interlocking blocks – similar to breeze blocks – have been used to counterweight perimeter fencing, as well as other outdoor facilities such as marquees and stages. However, interlocking blocks offer a far more durable, reliable, and practical solution.
"Not only are the blocks big and bulky, with each of our Lego and V interlocking blocks weighing between 375kg and 1.6 tonnes, but they can also be stacked on top of each other, and as such, can withstand much greater pressure, which at an event like the Olympics, which will have to cater for millions of spectators, is of paramount importance. And once the Games are over, the blocks can easily be taken down and reused on other projects."
Elite Precast Concrete has been working alongside Telford-based hauliers HW Pryce and Son Ltd to ensure the thousands of blocks are transported to London safely on time. Owen Batham commented: "We're absolutely delighted with the logistic support that Richard Pryce and the team at HW Pryce and Son Ltd have provided us with on this very prestigious contract. They've really gone the extra mile for us, working on weekends and bank holidays amongst others, and we'll be relying on them over the next few weeks to ensure the final few blocks are delivered on time."
The Olympic contract success comes hot on the heels of the firm almost doubling its storage and production capacity in Telford to more than 50,000 sq ft during the course of this year, a period which has also seen staff numbers increase by almost 30% to a total of 38. Earlier this month, Elite Precast Concrete also won an award for innovation at a major Midlands-wide business competition, with judges praising the company for both its production process – which uses locally-sourced, sustainable secondary aggregate as part of the concrete mix – and the use of sophisticated online sales and marketing campaigns.
"Now we're fast approaching the finishing line on our Olympic project, the next stage of our growth will be to build on our position as the UK market leader in the manufacture and supply of interlocking precast concrete blocks by increasing our exports across Europe, in particular the Benelux and Scandinavian countries, where there is a growing demand for concrete blocks, especially from the waste management and construction sectors," Owen concluded.
Founded in 2008 by a team with more than 40 years industry experience, Shropshire-based Elite Precast Concrete Limited is the UK market leader in manufacturing and supplying interlocking and 'V' interlocking precast concrete blocks. By adopting an innovative and forward-thinking approach, both in its production processes and sales and marketing strategy, the company's precast concrete products are now used by a wide range of UK and international clients including local authorities, recycling businesses, and waste management firms, to build durable waste storage bays.