May 2014
Elite's latest project buoyed by success
We have supplied a series of sea anchors to a popular coastal tourist attraction in the south of England to help ensure the safety of its open-water swimmers.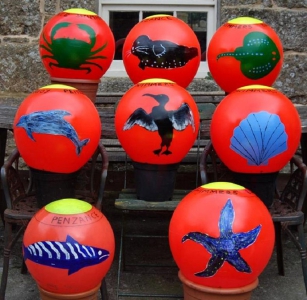 We were called upon to provide eight Sea Anchor Blocks to moor a series of decorative buoys that mark out an area of safe swimming for committed distance and recreational swimmers in Penzance.
A number of keen local swimmers who regularly swim in the open water painted eight buoys with decorative sea scenes and used our ballast blocks to ensure they were securely weighted out. The newly positioned buoys make an out-and-back distance of 2km, allowing swimmers to train and practise for events, or simply set themselves their own personal challenge.
Owen Batham, Sales and Marketing Director at Elite Precast Concrete, explained: "We were delighted to help support the Penzance swimmers with the mooring of the new buoys, and our Sea Anchor Blocks are perfectly suited to this type of project.  The blocks are specially designed to endure the harsh conditions of the salty sea water, and each steel lifting peg is galvanized to ensure its longevity. This type of ballast block is particularly popular to weight objects under the sea, as they provide great support, but can still be moved easily and conveniently."
A local open-water swimmer and volunteer for the cause explained: "We called upon the support of Elite Precast Concrete as we required a cost-effective, yet reliable way to moor the new buoys, without the fear they could move, essentially risking the safety of our swimmers. We hope the new decorated buoys and will become something of a tourist attraction, particularly during the summer months when swimming is a popular activity for both local people and visitors to Penzance –although many of the locals swim all year round!"