October 2013
Firm on right tracks with recent project
We've recently partnered with North Yorkshire Moors Railway to provide Duo™ Interlocking Blocks as a form of protection after a period of heavy rain saw one of the embankments collapse onto a fully-operating railway track at its Grosmont site.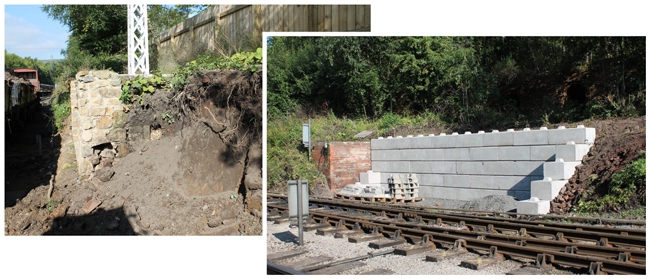 "Heavy rainfall in short spaces of time is such a common cause for issues cross the railway sector in the UK," Owen Batham, Sales and Marketing Director of Elite Precast Concrete, explained. "It can cause a whole host of headaches for operators, such as delayed services due to speed restrictions, degradation of the track formation and even, in worst case scenarios, derailment. These issues can lead to loss of revenue and aggravation for users or visitors."
We were commissioned to create a concrete wall to prevent the bank collapsing again and to create a 'refuge' so that signalling control panels could be safely installed. The entire process, from sorting and delivering, right the way through to installing and completion, took just two days.
Neil Hugil of North Yorkshire Moors Railway, added: "Our main priority was to get something in place that would be safe and effective at holding the fragile banks in place, and concrete was the perfect solution because of its extremely robust and durable qualities. The speediness of the Elite Precast Concrete team was fantastic and their professionalism and expertise gave us complete peace of mind when they assessed the situation. Due to this, we've now come to an agreement so that if ever we need their support again, we can call on them anywhere and anytime, including weekdays, evenings and weekends."