April 2014
Storage bays assembled in record time thanks to great teamwork
Elite Precast Concrete has played a key role in the speedy construction of an innovative black bag waste facility in North Tees, which features a highly-flexible interior layout that can be moved and adapted as the factory expands over the coming years.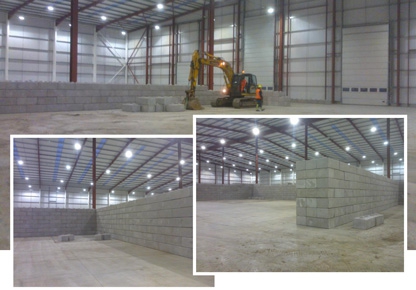 We supplied long-standing customer Impetus Waste Management with 2,000 of its interlocking Duo™ Blocks, which were delivered and installed by Impetus in less than eight days.
"Having worked alongside the team at Elite Precast Concrete for more than three years, we were confident that they could rise to the challenge," explained Operations Manager at Impetus Waste Management, Jonathon Shaw. "Thanks to the flexibility of the interlocking blocks, we were able to design and install interior stacking bays that can be easily moved as and when the facility grows. Six new positions were created in the construction of the site, and we're expecting this to rise to sixty within the next 12 months"
Opened at the beginning of the month, the North Tees facility processes and recycles black bag waste into feedstock material, which is exported to a nearby Energy from Waste (EfW) plant in Teeside.
"This is undoubtedly a company record for the most blocks supplied and assembled over such a short period," added Owen Batham, Sales and Marketing Director at Elite Precast Concrete. "The interior walls at the facility were quite substantial – 1.8m thick in some places. Our movable blocks are not only flexible, but are highly cost-effective too, working out as a third of the price of in-situ concrete.
"All credit to the Impetus Waste team, who were incredibly organised and efficient, and our partner haulier, H WPryce and Son Ltd, who really stepped up to the challenge."
Elite Precast Concrete's Duo™ blocks are the UK's fastest selling interlocking block solution. Available in three sizes, the speed of construction is a key feature of the blocks, which interlock with each other using 'lego' type connectors, and are dry-laid making them a reusable semi-permanent solution. Capping pieces are also available to give a great looking finish.
"Our Duo™ blocks are popular across a wide range of clients and sectors, and are available nationwide on a next-day delivery, either bought or hired. Anyone interested in finding out more about the range can get in touch by calling 01952 588885, or emailing sales@eliteprecast.co.uk," concluded Owen.