February 2014
TVCBs added to innovative product range
We've recently added a new range of product to our Security Barriers range – the Temporary Vertical Concrete Barriers (TVCBs). The barriers have a huge range of uses, from traffic control, and pedestrian and workforce safety, right through to site security, kentledge, flood defence, and anti-terrorist functions. They're also ideal for use in conjunction with anti-climb fencing to create high security, rapidly-installed temporary perimeter protection.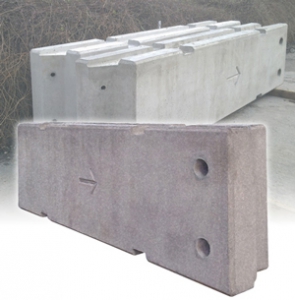 Until now, the availability of new TVCBs for the general market has been extremely limited and we're the only company to mass produce them for sale in the UK. The barriers are cast from our premium quality, high-strength (50N/mm2) concrete and measure 800mm in height, 450mm in width, 3,000mm in length and 2,500kg in weight. They also meet the full requirements of EN 1317 ''Compliant Road Restraints Systems for Temporary Safety Barriers'', and are also recognised by the Highways Agency for use on the Trunk Road Network.
By producing them for sale rather than hire, we hope to open the market up for both existing and new clients. Our low-cost business model will ensure prices are extremely competitive and delivery will be on our usual next day nationwide basis. We can supply any number of TVCBs to any destination in the UK and beyond, with no minimum order required.
TVCBs are the latest addition to our already popular range of blocks and barriers used across the UK and overseas, including the Vee™, Duo™, Jersey Barriers and Legato™ interlocking blocks.