Kentledge Blocks
Precast concrete kentledge blocks are used to act as ballast or counterweights for fencing, hoarding, scaffolding, or for various temporary works. By using precast concrete kentledge blocks for above ground/no dig fencing and hoarding systems you avoid the risk of costly service strikes. They can also be attached to wire ropes which are fixed to the structure to provide greater stability.

Elite's huge variety of 50N/mm2 blocks means that whatever the application we are bound to have a block or combination of blocks that will meet your requirements.
Our blocks are used extensively by maritime fabrication businesses for use in the off-shore wind turbine sector and by companies in the on-shore wind farm/wind turbine industries, as counterweights for port/dock side cranes (for example as strand jack guy rope anchors) and are used extensively in dry docks for ship supports.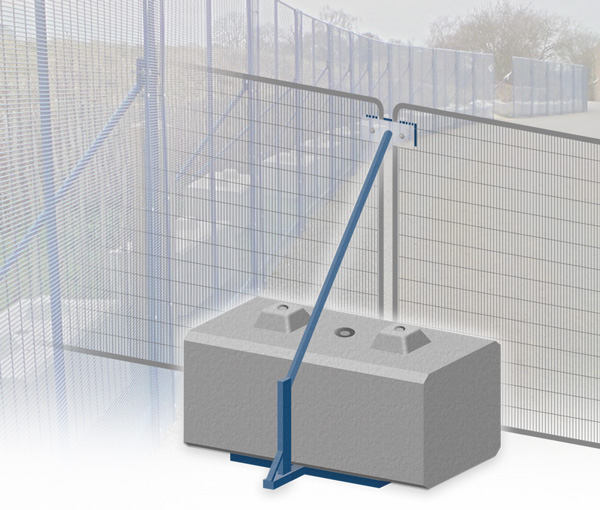 Block types
Elite offer a choice of products which can be used as kentledge/ballast blocks. The blocks shown and highlighted in red below are our most popular. Should you require different sizes then please refer to the rest of the table for size and style options.
| | | | | |
| --- | --- | --- | --- | --- |
| Block Type | Block Code | Product Drawing | L x W x H (mm) | Weight |
| Marquee | KM1000 | | 1000 x 750 x 750 | 1100kg |
| Marquee | KM500 | | 1000 x 550 x 450 | 480kg |
| Hoarding | P1-915 | | 915 x 610 x 610 | 700kg |
| Hoarding | P1-1220 | | 1220 x 610 x 610 | 970kg |
| Hoarding | P1-1525 | | 1525 x 610 x 610 | 1233kg |
| Hoarding | P1-1830 | | 1830 x 610 x 610 | 1500kg |
| Legato | LG4 | | 800 x 800 x 800 | 1200kg |
| Legato | LG8 | | 1600 x 800 x 800 | 2400kg |
| Duo | KL750 | | 1200 x 600 x 450 | 750kg |
| Duo | KL375 | | 600 x 600 x 450 | 375kg |
| Vee | KV1600 | | 1830 x 610 x 610 | 1600kg |
| Vee | KV1333 | | 1525 x 610 x 610 | 1333kg |
| Vee | KV1067 | | 1220 x 610 x 610 | 1067kg |
| Vee | KV800 | | 915 x 610 x 610 | 800kg |
| Vee | KV533 | | 610 x 610 x 610 | 533kg |
| Scaffold | KS1150 | | 1000 x 1000 x 500 | 1150kg |
| Solar | KZ1000 | | 2300 x 460 x 400 | 1000kg |
| Cube | KC1000 | | 1000 x 1000 x 425 | 1000kg |
| Duo | KL1125 | | 1800 x 600 x 450 | 1125kg |
| Security | KS2000 | | 1220 x 990 x 750 | 2000kg |
| Cube | KC2350 | | 1000 x 1000 x 1000 | 2350kg |
| Cube | KC2950 | | 1000 x 1000 x 1250 | 2950kg |
| MOD | KX3000 | | 1400 x 1400 x 700 | 3000kg |
Duo interlocking block
750kg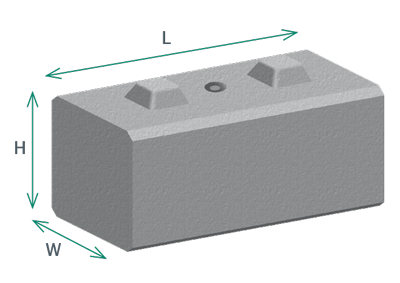 Legato interlocking block
1200kg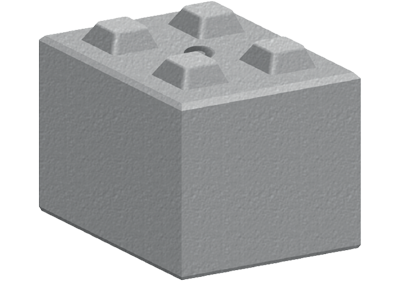 Hoarding blocks
700kg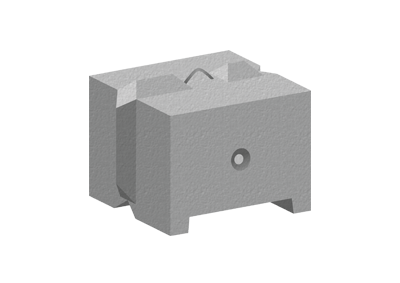 970kg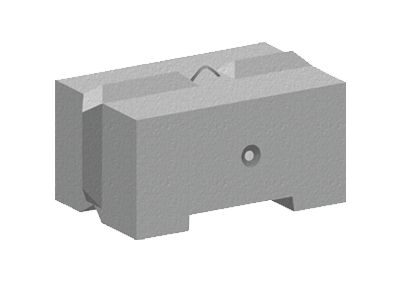 1233kg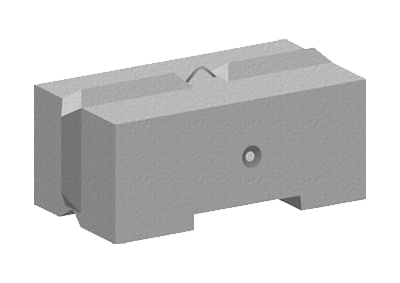 1500kg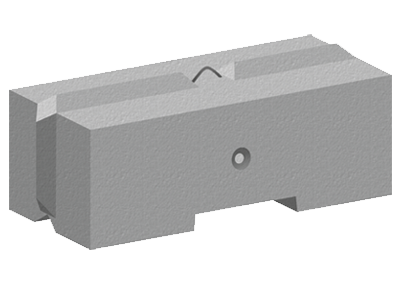 Vee interlocking blocks
1600kg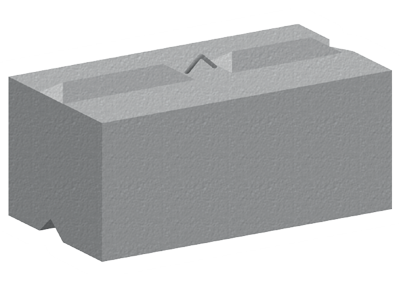 1333kg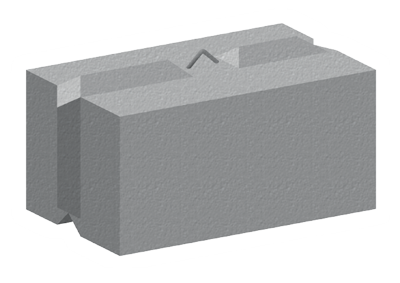 1067kg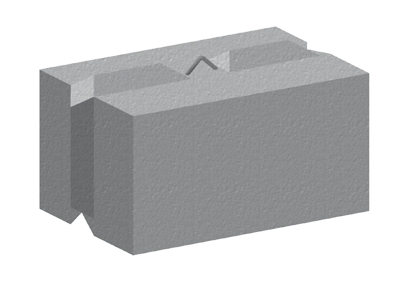 533kg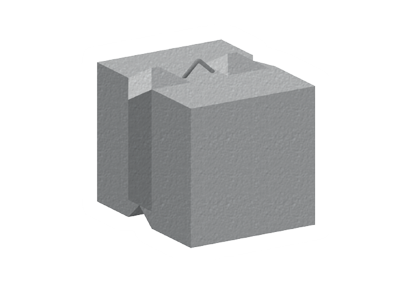 Marquee blocks
1100kg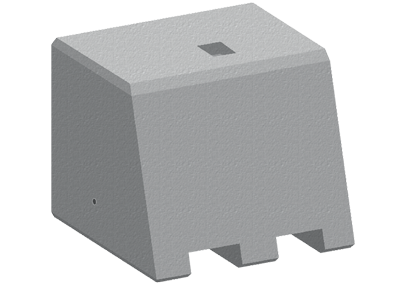 480kg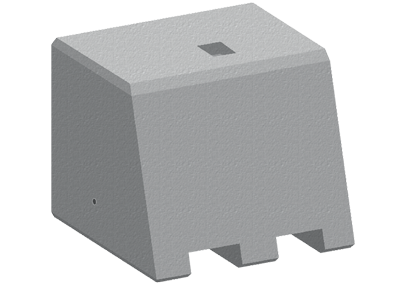 Scaffold blocks
1150kg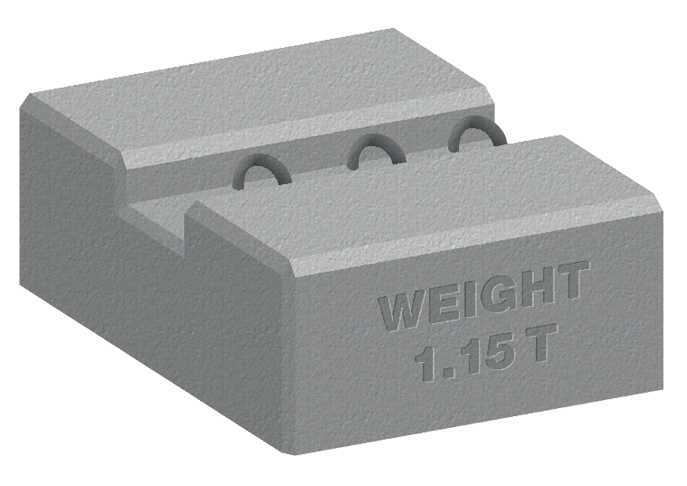 For more information call 01952 588 885